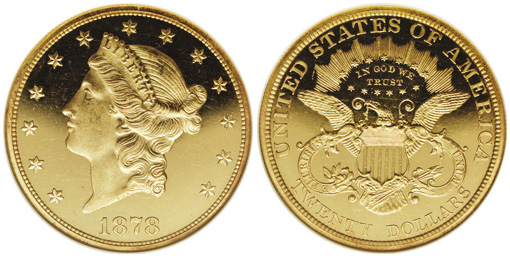 The first regular production of Proof Liberty Double Eagles occurred in 1859, when the Mint stuck 80 proof coins. Since there are only seven to eight surviving examples, it is assumed that a portion of the original mintage was never released and subsequently melted. Proof versions were struck in each following year until the end of the series in 1907.
Prior to the 1859 issue, it is believed that the Mint struck an extremely limited number of 1850 Proof Liberty Double Eagles, although none are confirmed to exist at present.  Three to four examples of 1858 dated proof double eagles are known.
The proof double eagles from 1859 to 1907 are always in demand for their rarity and beauty. Mintages were extremely small, ranging from 20 for some of the issues in the 1870's to a high of 158 pieces in 1903. No circulation strikes were produced at the Philadelphia Mint in 1883, 1884 and 1887, making the proofs the only available examples of those dates to collectors.


Proof Liberty Double Eagle Mintages
| | |
| --- | --- |
| 1858 | 3 to 4 known |
| 1859 | 80 |
| 1860 | 59 |
| 1861 | 66 |
| 1862 | 35 |
| 1863 | 30 |
| 1864 | 50 |
| 1865 | 25 |
| 1866 | 30 |
| 1867 | 50 |
| 1868 | 25 |
| 1869 | 25 |
| 1870 | 35 |
| 1871 | 30 |
| 1872 | 30 |
| 1873 | 25 |
| 1874 | 20 |
| 1875 | 20 |
| 1876 | 45 |
| 1877 | 20 |
| 1878 | 20 |
| 1879 | 30 |
| 1880 | 36 |
| 1881 | 61 |
| 1882 | 59 |
| 1883 Proof Only | 92 |
| 1884 Proof only | 71 |
| 1885 | 77 |
| 1886 | 106 |
| 1887 Proof only | 121 |
| 1888 | 105 |
| 1889 | 41 |
| 1890 | 55 |
| 1891 | 52 |
| 1892 | 93 |
| 1893 | 59 |
| 1894 | 50 |
| 1895 | 51 |
| 1896 | 128 |
| 1897 | 86 |
| 1898 | 75 |
| 1899 | 84 |
| 1900 | 124 |
| 1901 | 96 |
| 1902 | 114 |
| 1903 | 158 |
| 1904 | 98 |
| 1905 | 92 |
| 1906 | 94 |
| 1907 | 78 |