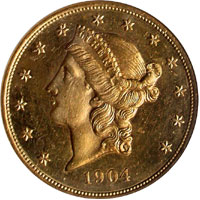 The Liberty Double Eagles experienced a wide range of mintages during the course of the series. The mintage low for a regular circulation issue of the series was the 1882 Double Eagle a mere 571 coins produced. If the 1849 pattern is considered the lowest mintage drops to just 1, although there are rumors that a second example may exist. The highest mintage for the series occurred with the 1904 Double Eagle, at 6,256,699.
Coins were struck at Philadelphia, New Orleans, Carson City, Denver, and San Francisco. The mint mark for the latter three mints appears on the reverse, beneath the tail feathers of the eagle. There were a handful of years when the Philadelphia Mint did not produce coins for circulation, but only a small number of proof coins.
The table below presents the mintages for circulation strikes across all dates and mints. Besides these figures, survival rates are also very important to consider. There are two notable New Orleans issues from 1854 and 1856, which have both low mintages and extremely low survival rates.
| Issue | Mintage |
| --- | --- |
| 1849 pattern | 1 known |
| 1850 | 1,170,261 |
| 1850-O | 141,000 |
| 1851 | 2,087,155 |
| 1851-O | 315,000 |
| 1852 | 2,053,026 |
| 1852-O | 190,000 |
| 1853 | 1,261,326 |
| 1853-O | 71,000 |
| 1854 | 757,899 |
| 1854-O | 3,250 |
| 1854-S | 141,468 |
| 1855 | 364,666 |
| 1855-O | 8,000 |
| 1855-S | 879,675 |
| 1856 | 329,878 |
| 1856-O | 2,250 |
| 1856-S | 1,189,750 |
| 1857 | 439,375 |
| 1857-O | 30,000 |
| 1857-S | 970,500 |
| 1858 | 211,714 |
| 1858-O | 32,250 |
| 1858-S | 846,710 |
| 1859 | 43,597 |
| 1859-O | 9,100 |
| 1859-S | 636,445 |
| 1860 | 577,670 |
| 1860-O | 6,600 |
| 1860-S | 544,950 |
| 1861 | 2,976,453 |
| 1861-O | 17,741 |
| 1861-S | 768,000 |
| 1862 | 92,133 |
| 1862-S | 854,173 |
| 1863 | 142,790 |
| 1863-S | 966,570 |
| Issue | Mintage |
| --- | --- |
| 1864 | 204,235 |
| 1864-S | 793,660 |
| 1865 | 351,175 |
| 1865-S | 1,042,500 |
| 1866 | 698,745 |
| 1866-S without motto | 120,000 |
| 1866-S with motto | 842,250 |
| 1867 | 251,015 |
| 1867-S | 920,750 |
| 1868 | 98,575 |
| 1868-S | 837,500 |
| 1869 | 175,130 |
| 1869-S | 686,750 |
| 1870 | 155,150 |
| 1870-CC | 3,789 |
| 1870-S | 982,000 |
| 1871 | 80,120 |
| 1871-CC | 17,387 |
| 1871-S | 928,000 |
| 1872 | 251,850 |
| 1872-CC | 26,900 |
| 1872-S | 780,000 |
| 1873 | 1,709,800 |
| 1873-CC | 22,410 |
| 1873-S | 1,040,600 |
| 1874 | 366,780 |
| 1874-CC | 115,085 |
| 1874-S | 1,214,000 |
| 1875 | 295,720 |
| 1875-CC | 111,151 |
| 1875-S | 1,230,000 |
| 1876 | 583,860 |
| 1876-CC | 138,441 |
| 1876-S | 1,597,000 |
| 1877 | 397,650 |
| 1877-CC | 42,565 |
| 1877-S | 1,735,000 |
| 1878 | 543,625 |
| 1878-CC | 13,180 |
| 1878-S | 1,739,000 |
| 1879 | 207,600 |
| 1879-CC | 10,708 |
| 1879-O | 2,325 |
| 1879-S | 1,223,800 |
| 1880 | 51,420 |
| 1880-S | 836,000 |
| 1881 | 2,199 |
| 1881-S | 727,000 |
| 1882 | 571 |
| 1882-CC | 39,140 |
| 1882-S | 1,125,000 |
| 1883-CC | 59,962 |
| 1883-S | 1,189,000 |
| 1884-CC | 81,139 |
| 1884-S | 916,000 |
| 1885 | 751 |
| 1885-CC | 9,450 |
| 1885-S | 683,500 |
| 1886 | 1,000 |
| 1887-S | 283,000 |
| 1888 | 226,161 |
| 1888-S | 859,600 |
| Issue | Mintage |
| --- | --- |
| 1889 | 44,070 |
| 1889-CC | 30,945 |
| 1889-S | 774,700 |
| 1890 | 75,940 |
| 1890-CC | 91,209 |
| 1890-S | 802,750 |
| 1891 | 1,390 |
| 1891-CC | 5,000 |
| 1891-S | 1,288,125 |
| 1892 | 4,430 |
| 1892-CC | 27,265 |
| 1892-S | 930,150 |
| 1893 | 344,280 |
| 1893-CC | 18,402 |
| 1893-S | 996,175 |
| 1894 | 1,368,940 |
| 1894-S | 1,048,550 |
| 1895 | 1,114,605 |
| 1895-S | 1,143,500 |
| 1896 | 792,535 |
| 1896-S | 1,403,925 |
| 1897 | 1,383,175 |
| 1897-S | 1,470,250 |
| 1898 | 170,395 |
| 1898-S | 2,575,175 |
| 1899 | 1,669,300 |
| 1899-S | 2,010,300 |
| 1900 | 1,874,460 |
| 1900-S | 2,459,500 |
| 1901 | 111,430 |
| 1901-S | 1,596,000 |
| 1902 | 31,140 |
| 1902-S | 1,753,625 |
| 1903 | 287,270 |
| 1903-S | 954,000 |
| 1904 | 6,256,699 |
| 1904-S | 5,134,175 |
| 1905 | 58,919 |
| 1905-S | 1,813,000 |
| 1906 | 69,596 |
| 1906-D | 620,250 |
| 1906-S | 2,065,750 |
| 1907 | 1,451,786 |
| 1907-D | 842,250 |
| 1907-S | 2,165,800 |