Guide to U.S. Liberty Double Eagles
The Liberty Double Eagle represented the first series for the twenty dollar gold denomination. The new denomination was created as a direct result of the discovery of gold in California and the ensuing California Gold Rush. The Liberty Double Eagles would be produced from 1849 to 1907 across five different mint facilities with mintages ranging from the hundreds to the millions. The first year of issue for the series has only a single example known to exist. The remainder of the series includes several other issues which are extremely rare or unknown in mint state grades and three issues struck in proof-only format.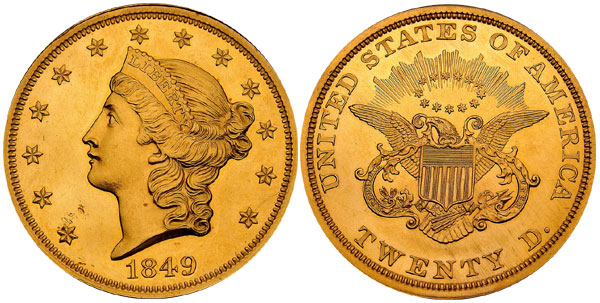 On January 24, 1848, gold was discovered at Sutter's Mill in Coloma, California on the bank of the American River. Although the owner John Sutter tried to keep the discovery a secret, word quickly spread and set off the California Gold Rush. Between 1848 and 1855, approximately 300,000 people would come to the area to seek their fortune. The massive movement of people and the influx of gold into the monetary supply would have far-reaching societal and economic impacts. Changes would also occur within the United States coinage system.
Under the Coinage Act of 1792, the original United States gold denominations consisted of the quarter eagle, half eagle, and eagle, with values of two dollars and fifty cents, five dollars, and ten dollars, respectively. With the vast quantity of gold coming out of California, additional options were deemed necessary to convert the bullion into coins. The Coinage Act of 1849 would authorize the gold dollar and the double eagle, creating a new lowest and highest denomination for gold coinage. United States Mint Chief Engraver James B. Longacre would be responsible for designing both of the new coins.
The obverse of the Liberty Double Eagle features a profile portrait of Liberty, facing left. Her hair is bound with tresses falling behind her neck and she wears a coronet inscribed LIBERTY. There are thirteen stars surrounding the portrait with the date appearing below. Except for a few minuscule improvements to the working hub, the obverse design would essentially remain unchanged for the duration of the series.
The reverse design features a rendition of the heraldic eagle with large scrolls to each side containing the motto E PLURIBUS UNUM. A semi-circle of rays extends from wing to wing of the eagle with an oval circle of stars just below. The inscriptions UNITED STATES OF AMERICA and the denomination expressed as "TWENTY D." appear surrounding. During the course of the series, the reverse design underwent two notable modifications. In 1866, the reverse was altered to add the motto IN GOD WE TRUST within the oval of stars. In 1877, the denomination was modified to read TWENTY DOLLARS in full rather than the abbreviated version.