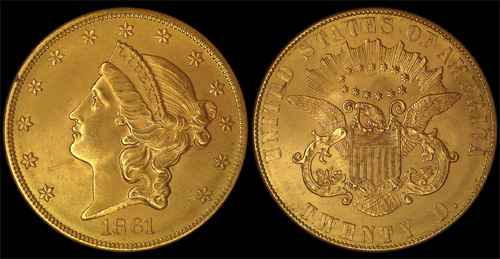 The 1861 "Paquet Reverse" Liberty Double Eagle was created when United States Mint Engraver Anthony Paquet made modifications the reverse design of the denomination. The most noticeable change was to the inscriptions, which used a taller and slenderer font. In the past this issue had been considered a pattern, but it is now known to have been produced as a regular issue intended for circulation.
After an unknown number of double eagles carrying the modified reverse design were struck at the Philadelphia Mint, United States Mint Director James Snowden recalled the coins and ordered them melted. Two examples managed to survive, both in uncirculated condition. One example graded PCGS MS-61 sold for $1,645,000 in 2014. The other example graded an immaculate PCGS MS-67 sold for $7,200,000 at auction in 2021.
The "Paquet Reverse" was also used during the same year for some coins struck at the San Francisco Mint. A total of 19,250 pieces were produced and released into circulation before the recall order could reach the mint. A few hundred examples of the San Francisco issue have survived, although there are no pieces known in uncirculated condition. The finest known example graded PCGS AU-58+ sold for $144,000 in 2018.
Coin Specifications
Designer: John B. Longacre
Composition: 90% Gold, 10% Copper
Weight: 33.436 grams
Diameter: 34 mm
Edge: Reeded