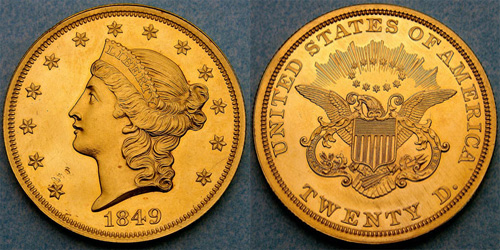 The 1849 Liberty Double Eagle is a famous and historic rarity, representing the first double eagle struck by the United States Mint. Only a single example is known to exist and this piece resides within the National Numismatic Collection of the Smithsonian Institution.
Technically a pattern or experimental coin, it is believed that at least two examples of the 1849 Double Eagle were struck on December 22, 1849. The first piece was sent to the Mint cabinet and eventually transferred to the Smithsonian. The second piece supposedly went to Treasury Secretary William M. Meredeth and found its way to the Steven K. Nagy collection. Nagy passed away in 1958 and beyond some rumors, the existence of the coin has never been confirmed. A single brass impression was also known in the 19th century, but that specimen has not been seen since 1892.
An example of the 1849 Double Eagle has never traded publicly, but in 1909 J.P. Morgan was reported to have offered a sum of $35,000 for the example in the Mint cabinet collection. This would have represented an enormous amount at a time when other well-known rarities such as the 1804 Silver Dollar commanded prices of less than $1,000. Recent estimates of the value of this unique rarity have been as high as $20 million, although the price at auction could be substantially higher due to the prominent status of this unique rarity.
Coin Specifications
Designer: John B. Longacre
Composition: 90% Gold, 10% Copper
Weight: 33.436 grams
Diameter: 34 mm
Edge: Reeded