On January 24, 1848 gold was discovered at Sutter's Mill in California. This would begin the "California Gold Rush" when thousands of people would come to California in search of their fortune. During this time, massive amounts of gold were discovered and sent to the various Mints throughout the country to be manufactured into coins. To mark the first deposit of California gold at the Philadelphia Mint in 1848, an extremely limited number of quarter eagles would be struck with the letters "CAL on the reverse. These coins were only be a small preview of the change that would come to the American monetary system soon afterward.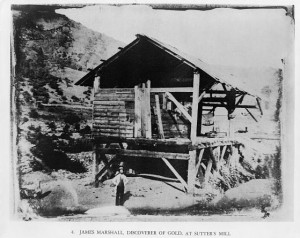 A new twenty dollar denomination was created under the Coinage Act of 1849, also known as the Gold Coinage Act, approved on March 3, 1849. While the ten dollar eagle denomination may have been sufficient to facilitate the gold bullion coming into the Mints, it was preferred to create a larger denomination. Also suggested were $50 and $100 gold pieces, called Half Unions and Unions. While two pattern varieties of the former are known, the denomination never materialized.
The first example of the new twenty dollar gold piece is a single 1849 Liberty Double Eagle, which currently resides within the National Numismatic Collection of the Smithsonian Institute. Regular production of double eagles would begin the following year in 1850.
In 1854, the San Francisco branch Mint opened and large amounts of gold were converted to freshly minted double eagles. Significant amounts of gold bullion also continued to be shipped to the Philadelphia Mint, as gold traded at a higher value in the east.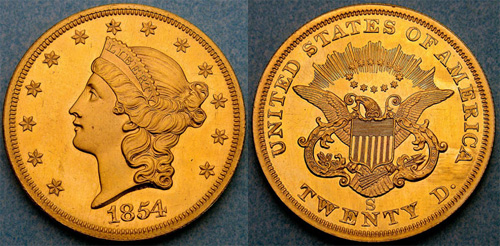 The New Orleans Mint also produced double eagles, but usually relied on local supplies of gold. As these were rather limited, mintages for the New Orleans double eagles were small and many issues are now extremely hard to find, especially higher grades. Many double eagles are known to have been exported overseas and melted. As New Orleans was a major seaport in the 19th century, this may have represented the fate of many freshly minted double eagles from the 1850's.
While the Liberty Double Eagle was in production, another branch Mint opened in Nevada. Located in Carson City near the heart of the Comstock mining area, it was specifically intended to strike large amounts of silver coins for circulation. Since gold was also discovered in the area and deposited, gold issues were struck during all years the Mint was in operation. These Carson City double eagles are all extremely popular with collectors, with some issues being extremely rare and/or unknown in uncirculated grades.