The Liberty Double Eagle is one of the most popular American gold coins to collect. The coins were issued for circulation from 1850 to 1907 and represent the largest regular issue US coin in denomination and gold value. The twenty dollar gold coins were introduced following the discovery of vast amounts of gold in California. Previously, the highest denomination coin had been the eagle, with a value of ten dollars.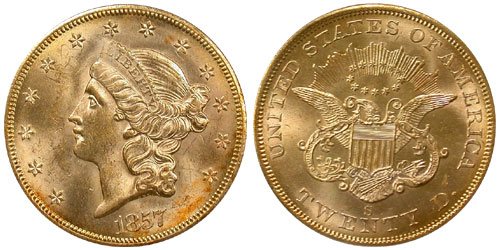 The Liberty Double Eagle was designed by James B. Longacre. The obverse of the coin features the head of Liberty. She appears wearing a Coronet containing the word "Liberty." Her hair is pulled back and bound with some tresses falling behind her neck. Thirteen stars appear surrounding with the date below. The reverse of the coin features a heraldic eagle holding a double scroll containing the words "E Pluribus Unum". The words "United States of America" appears above with "Twenty D." or "Twenty Dollars" below. The motto "In God We Trust" was added above the eagle in 1866.
As the other gold coins struck in the later part of the 19th century and early part of the 20th century, the Liberty Double Eagle was struck on planchets of a gold and copper composition. These consist of 90% gold and 10% copper, with a weight of 33.4 grams (516 grains) and a diameter of 34 millimeter with a reeded edge. Examples were struck at the Philadelphia Mint (no Mintmark), Carson City (CC) Denver (D) and San Francisco (S) Mints.
During the course of the series, a total of 143 different issues were minted, along with a small number of collected varieties. Because of this immense number and the rarity of many individual issues, few collectors choose to assemble a complete set of Liberty Double Eagles by date and mintmark. Very few collectors have completed, or even nearly-so, a full set of these impressive gold coins, and they have been unquestionably ranked among the most famous coin collectors of all time.